How much do you know about the traditional Spanish food? Of course you have tasted the delicious tapas, the delectable Jamon Iberico, the tortilla … This list could go on for ages, but lets' focus on another Spanish delicacy: a summer soup. Wait a minute … Soups? Spain? Summer?
Don't worry! The well-known Gazpacho, the traditional Spanish soup, is cold and it is though as refreshing dish when it's too hot to eat. Have you already tasted it?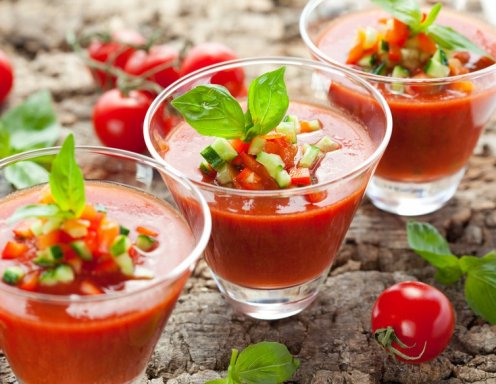 The Gazpacho is a refreshing and cool soup originated in Andalusia (South of Spain). It is made up of raw vegetables such as tomatoes, cucumber, onion, bell pepper and garlic and it is usually served in tall glasses. Added value: this soup is vegetarian friendly.
Where can you taste it? During the Spanish hot summer, you can taste it nearly everywhere. Being a traditional summer soup, it is not uncommon that some restaurants do not have it during winter.
Enjoy the meal!